TP ICAP Prepares for Secular Shift
TP ICAP is launching a wholesale electronic marketplace for spot cryptoasset trading and providing connectivity to digital asset custodians as the market infrastructure provider said the financial industry is going through a secular shift similar to electronification.
In June this year TP ICAP announced it is aiming to to launch a wholesale trading platform for cryptoassets in collaboration with Fidelity Digital Assets, Zodia Custody and Flow Traders, subject to registration with the UK Financial Conduct Authority.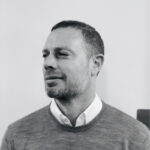 Simon Forster, co-head of digital assets at TP ICAP, told Markets Media: "I can't stress enough that TP ICAP is doing this as a long-term play as we believe this is a secular shift like electronification 20 years ago."
He continued that electronification was a huge infrastructure upgrade in bringing liquidity to trading screens in the front office. In a similar fashion, blockchain-based assets require an upgrade in infrastructure for post-trade settlement and clearing.
The genesis of the digital asset business goes back to 2017 when Nicolas Breteau, now chief executive of TP ICAP, launched a working group across the organisation in order to approach crypto assets in a coherent manner and with a centralised approach.
Duncan Trenholme, co-head of digital assets at TP ICAP, told Markets Media: "This is a move into the new blockchain-based infrastructure that is going to begin permeating into other asset classes."
Forster agreed that TP ICAP is building a digital business and infrastructure based on where the firm thinks the market will move to in the future, especially as more assets become tokenized.
For broker dealers the most significant barrier to engagement with digital assets was a lack of secure market infrastructure according to a survey by Citi and Global Custodian. The study also found that one third, 34%, of asset managers cited regulatory concerns as the main barrier compared to 30% of the overall response pool.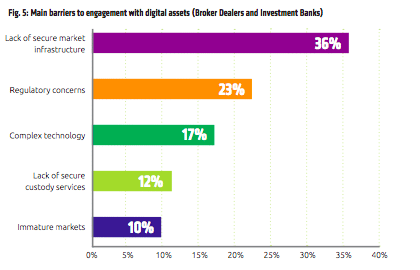 Derivatives
TP ICAP began by offering access to traditional financial products that reference cryptocurrencies such as CME's Bitcoin futures and products listed on Bakkt, the crypto exchange originally launched by ICE.
Forster said: "The second stage in our strategy was that clients were going to want to trade the underlying assets themselves. The current infrastructure doesn't fit the bill for the majority of institutions but we are starting to see digital custodians coming to market such as Fidelity Digital Assets and Zodia Custody."
Zodia is a venture incubated by SC Ventures, the innovation arm of Standard Chartered.
Trenholme said that in addition to building out the exchange-traded business, the firm is also expanding over-the-counter derivatives for crypto assets such as in foreign exchange.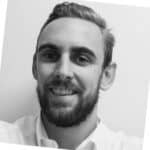 "If you come from an FX department you naturally look at a Bitcoin/US dollar pair through the lens of your other FX products and an NDF (non-deliverable forward) is very familiar," Trenholme added. "We are also getting asked a lot of questions around total return swaps and OTC options."
However, in a nascent market a number of things need to be put in place such as unique identifiers for crypto OTC derivatives.
New platform
TP ICAP has submitted an application to register the digital assets platform with the FCA and it will only launch once that has been completed, which is slated for the second half of this year. The FCA's responsibility under this regime is limited to AML/CTF registration supervision and enforcement only.
Forster said that one of TP ICAP's key selling points is regulatory compliance as the largest inter-dealer broker. It is possible that in the future tokenized assets will have to be traded on a regulated multilateral trading facility.
"TP ICAP already operates multiple regulated venues for multiple asset classes," he added.
TP ICAP has also partnered with Flow Traders, a leading global financial technology-enabled liquidity provider in financial products, historically specialised in exchange traded-products and now expanding into other asset classes.
Michael Lie, head of digital asset trading at Flow Traders said in statement: "As the #1 market maker in cryptocurrency ETPs, as well as being a leading spot OTC liquidity provider, we have seen first-hand the increase in institutional interest in cryptoassets."
TP ICAP expects to announce additional liquidity providers and strategic custody partners.
The trading platform, which will be launched in London, will be made available globally to customers across the TP ICAP Group as well as to new clients of the firm seeking market access to this new asset class.
Andrew Polydor, global head of markets at TP ICAP, said in a statement: "This platform leverages mature trading technology developed by our partners GMEX Technologies, to provide spot liquidity in digital assets as well as access to multiple custodians via a bespoke post-trade solution. These are key requirements for our institutional clients who want to be able to trade, invest and safely access this growing area of the market."
Competition
TP ICAP faces competition from other traditional financial firms entering the digital asset space, as well as crypto-native firms offering services tailored to institutions.
For example, State Street is launching a division for digital finance which will include crypto, central bank digital currency, blockchain and tokenization, led by Nadine Chakar, previously head of State Street Global Markets. Talos, an institutional technology provider for digital asset trading, has recently raised $40m in an investment round led by venture capital firm Andreessen Horowitz.
Trenholme said: "Brand is really important in a new asset class as it provides confidence and trust. We are going to market with a clear segregation of responsibilities which we think is going to resonate with our traditional client base."
In addition, he argued that TP ICAP's experience and position as the world's largest inter-dealer broker carries weight.
"As as an organisation we have a lot of experience in in managing liquidity," Trenholme added. "If you look at other asset classes in energy and commodities they have historically been quite volatile, so we understand how to mitigate and manage those risks."
He continued that TP ICAP holds liquidity across every asset class which should be an advantage when traditional securities become tokenised.
"A tokenized equity is going to be much easier when it is done by an interdealer broker that has such a large percentage of the equity market," said Trenholme.
In March this year TP ICAP competed its acquisition of Liquidnet, the institutional dark pool, which Trenholme said will provide buy-side connectivity.
Forster added that the digital asset business fits with TP ICAP's group-wide strategy of diversifying revenues, electronification, building electronic liquidity and providing post-trade infrastructure.
"I think we are complementary to some of the crypto firms," said Forster. "Some of our customer base may not get comfortable dealing with a crypto-based firm, although some are crossing that chasm and becoming public market infrastructure."