Fraser Aims to Simplify Citi
Jane Fraser, chief executive of Citi, said the bank is in the process of refreshing its corporate strategy to focus on the strongest scalable growth and to make the organisation more simple.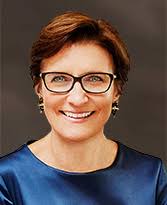 Fraser spoke in a media briefing on 1 July on her first international trip in 16 months to London, the bank's second largest global centre, to meet colleagues, clients and regulators. She said: "I thought it was important to be here."
The review of corporate strategy is being undertaken under four principles, one of which is to take a clinical look at its different businesses and see where the bank is positioned to add value. After Fraser took over as chief executive in March this year the bank announced that it would be closing consumer banking operations in 13 markets across Asia, Europe and the Middle East including Poland and Russia.
"We're going to focus on the businesses where we see the strongest scalable growth and look at how to make the bank well-connected," Fraser said. "We're looking at simplifying Citi."
She added that wealth management, particularly in Asia and offshore centres, provides this opportunity but the bank did not have the required scale to be sufficiently competitive in consumer banking in certain geographies. Therefore, it was better to exit these retail banking markets and deploy capital by either investing in growth opportunities or returns to shareholders. Citi will continue to offer institutional and capital markets services in these geographies, as well as cash management and transaction services which Fraser described as the "jewel in our crown."
"I want us to focus the bank on London, Switzerland and the Middle East as big global wealth centres," said Fraser.
The strategy change is also partly in response to US regulators, Office of the Comptroller of the Currency and the Federal Reserve, announcing enforcement actions against the bank in October last year. The Federal Reserve said in a statement that its cease and desist order required the bank to enhance its firm-wide risk management and internal controls as it had not taken prompt and effective actions to correct practices previously identified by the Fed in compliance risk management, data quality management, and internal controls.
Fraser said the bank's transformation had to make sure that it did not just respond to these regulatory concerns but also looked at the world ahead and the need for digitization. Citi moves trillions of dollars on a daily basis and that volume is only going to increase.
"How do we ensure that we're positioning Citi for even greater scale, volumes and speed, and make sure we have the technology platform, operating systems, processes and control environment so that we remain the pre-eminent bank in these different businesses going forward ?" she asked. "Coming out of the work we're doing we will be more effective, more efficient, serve our clients better."
She described the bank as striving for excellence in client delivery, operations, risk management and controls.
"We have defined all that work and that has been well received," Fraser added. "We're now finalising the the most important piece which is the execution and the investment plans to get us there."
The data function, policies and control frameworks have already been redesigned and Fraser said the bank has been laying out some of the changes in culture by bringing in new talent in risk, data and human resources.
"It will take a few years but we're going to be pretty formidable," said Fraser.
On Fraser's first day as chef executive the bank committed to net zero greenhouse gas emissions by 2050. Citi has since committed to a trillion dollars of sustainable financing by 2030. Half of that funding is related to environmental goals and the other half to other elements of sustainability such as racial and gender equality and affordable housing.
Fraser outlined her belief that sustainability can be very good for business.
"We recognise that economic growth and an equitable society is important," she added. "Banks have come out from this crisis stronger in terms of capital, liquidity and supporting clients and we all intend to play a very important role in helping drive that recovery going forward on all those dimensions."
Flexible working
As a result of the pandemic Citi will be operating a hybrid model for its 200,000 global employees, with most staff in the office for at least three days a week. The bank has mapped every job function to see if it can work in a hybrid model as there are some roles which need to be fully in the office, while a small number can be fully remote.
"The future of work at Citi will see nearly all of us back in the office, but there's a big 'but' which is increased flexibility," Fraser said. "I don't think any of us want to come back and feel we're going back on Groundhog Day or how it always was."
Fraser added that the past year has shown that flexibility is important and that the bank has demonstrated that it can still be very successful. In addition, she believes it will be a competitive advantage in attracting talent.
She explained that she personally benefited from flexibility by working part-time for five years when her two sons, now 19 and 22, were born and that has been critical to her success. When she returned to the office one of her clients said she had become a better leader and advisor because she was much more empathetic.
"I talk about excellence and empathy and do not see a trade-off between the two " she added. "I believe in flexibility for men and women. Flexibility doesn't stop you being aggressive, doesn't stop you having a successful career and please use me as an example that you can get that balance."
The pandemic has also strengthened the case for all forms of diversity and the absolute need for thinking differently according to Fraser, who is the first female chief executive of a large Wall St bank. Her own management team comes from around the world. Fraser pointed out that she is a Scot leading a US bank and has worked all round the globe, including running Latin America for Citi.
"Having diverse perspectives around the table has been critical for driving innovation and is now a competitive necessity," she added.
Fraser described visiting the London trading floor during her current trip and and seeing many more women.
"It was a real shot in the arm for me," she said. "It was the same in the technology teams, in our data teams. They are really on fire, doing a fantastic job, being themselves and playing to their strengths."
Citi's board is 50/50 male and female and there are senior female leaders such as Kristine Braden, head of Europe; Elissar Farah Antonios, head of MENA cluster; and Ebru Pakcan, head of EMEA emerging markets cluster.
The bank is also on track to meet its global target of having women being 40% of vice presidents or assistant vice presidents and above by the end of this year and making sure that it has equal pay.
During her visit Fraser has also been meeting senior women in other organisations such as Ana Botín, executive chairman of Spanish banking group Santander, and Alison Rose chief executive of NatWest Group, the UK bank.
"It's nice to see more of us and it sends a message that diversity is valued," said Fraser.
Brexit
The UK's departure from the European Union has led to some of the bank's clients adjusting their trade and investment flows. In addition, different European financial centres are building and strengthening their own capabilities in areas such as clearing and banking.
Fraser said: "There's no question that we are in the middle of one of those big structural changes in Europe and the UK."
However, she stressed the connectivity and position of London as a global centre so people should not think of the shift as a zero-sum game between Europe and the UK, but be mindful of competitiveness in a global context.
"We are very committed to London as our EMEA headquarters, we're not going to change that," said Fraser.