Digital Transformation Moving at Light Speed
Pete Cherecwich, president of Northern Trust Asset Servicing, said the Covid-19 pandemic has accelerated digital transformation and the whole industry is moving at light speed.
Northern Trust Asset Servicing provides asset servicing, investment management, banking and related services to institutional clients worldwide.
Cherecwich told Markets Media: "The pandemic has accelerated digital transformation and put a focus on efficiencies and costs. The whole industry is moving at light speed."
One of the methods that asset management and asset owners clients are using to become more efficient and save costs is to focus on their investment process while outsourcing trading. Northern Trust provides outsourced trading through its Integrated Trading Solutions business which provides trading in equities, fixed income and foreign exchange together with a fully integrated middle and back office service to lower risk, manage regulatory compliance and increase  operational efficiency.
"Integrated Trading Solutions is our fastest growing business and has been going like gangbusters for 18 months," Cherecwich said. "Firms are looking for a partner to outsource trading due to cost pressures and we are having more conversations."
For example, this month Westwood Holdings, a $12bn (€9.9bn) investment management boutique and wealth management firm, chose to outsource trading to Northern Trust. Integrated Trading Solutions will assume responsibility for equity and fixed income trading and middle office trade settlement support.
Fabian Gomez, chief operating officer at Westwood Holdings, said in a statement: "Internally, we gain access to greater flexibility and scalability with our trading operations, as well as the accompanying cost savings. Meanwhile, we can serve our clients better by providing increased transparency into elements like execution, transaction costs, and detailed cost analysis."
Outsourced trading is part of Northern Trust Whole Office, a strategy that integrates the asset servicing platform with partners to give clients access to new technologies, services and solutions across the spectrum of strategy and trading, operational, data and digital and analytics solutions across the investment lifecycle.
For example, last year Northern Trust entered into a strategic alliance with BlackRock to deliver enhanced operations, data, and servicing capabilities to mutual clients. The alliance connects Northern Trust's fund accounting, fund administration, asset servicing, and middle office capabilities to BlackRock's Aladdin, an investment management and operations platform.
Matrix
Northern Trust is happy to integrate with other technology platforms like Aladdin but also builds proprietary technology such as Matrix, which the firm developed to digitise asset servicing.
"Our investment priority this year is Matrix," said Cherecwich. "Beyond that, our clients are demanding multi-asset class data and there is a race in the marketplace to provide solutions."
He continued that next major release of Matrix will be rolled out from May 31 this year, having already gone live for some functions in the European transfer agency business where Matrix includes portals for shareholders to buy and sell funds. APIs enable automatic linkage to bank accounts as well as providing information to both the asset manager and custodian.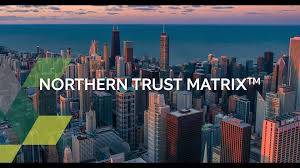 "Ultimately, Matrix will ensure that we meet our clients' needs by delivering data to clients in real time, not just from our system but as close to the source as possible," Cherecwich added.
Northern Trust has also launched Concierge, a portal which allows clients to contact the firm through a central point, with more automation, and that is secure and robust enough for approving transactions.
"The custody business launched in the 1970s because we had all the data and could build tools on top of this information," said Cherecwich. "Now somebody else may be able to do that without having custody, which is both a threat and opportunity."
Digital assets
One of the opportunities is the fast growing new market of digital assets.
"We believe digital currencies and assets will eventually become the norm," added Cherecwich. "We do not know yet how that will play out or who will be disintermediated."
Last month SC Ventures, the venture unit of Standard Chartered, and Northern Trust, agreed to launch Zodia Custody, an institutional-grade custody solution for cryptocurrencies, subject to registration with the UK Financial Conduct Authority. Zodia is expected to begin operations in London this year.
We've partnered with @scventuresDNA to launch Zodia, a cryptocurrency custodian. Our global head of Market Advocacy and Innovation Research, Justin Chapman, tells us how cryptocurrencies are changing the way our market operates. pic.twitter.com/0W8YlQtSKt

— Northern Trust (@NorthernTrust) December 11, 2020
Last year Northern Trust was the asset servicing provider to BondEvalue, the Singapore platform which completed the first trade of a fractionalized blockchain-based bond. Northern Trust communicated cash and securities settlement reporting directly to BondEvalue's distributed ledger technology using an API.
Back in 2017 Northern Trust developed a DLT platform for private equity servicing that is being transferred to Broadridge Financial Solutions. Broadridge will develop the blockchain platform to provide data and analytics tools so private equity firms can manage, communicate and engage with investors efficiently. It enhances capital and cash flow management and automates the middle office functions.
"The Broadridge partnership will be implemented with clients this year," added Cherecwich. "Our investment strategy is to partner with relevant firms rather than building an ecosystem ourselves. We are protecting our future."