Clearing Cliff's Edge Looms
Access to central counterparty clearing houses by clients in the UK and European Union needs to be clarified by September when CCPs will need to give notice to clearing members if they need to change their arrangements.
The FIA, the trade organization for the futures, options and the centrally cleared derivatives markets, hosted a webinar this morning – Cross border clearing and market access : EMIR 2.2 and Brexit.
Emma Dwyer, partner at law firm Allen & Overy, explained on the panel that the UK has left the European Union and has said it will not ask for an extension to the current transition period which lasts until the end of this year.  Dwyer said that an equivalence decision on CCPs had originally been due by the end of last month.
"CCPs have deadlines to give notice to clearing members in September so there is a cliff edge," she added.
Robert Booij, chief executive, Europe at ABN Amro Clearing Bank, agreed on the webinar that there is a potential cliff edge in September and said there will be "severe" consequences if clients in the European Union lose access to UK CCPs.
"Clients need access to the most liquid market for hedging," he added. "They may not be able to meet the clearing mandate if they lose access to interest rate swap clearing at LCH, credit default swaps in ICE Clear Europe or commodities clearing at LME."
He continued that clients can establish UK subsidiaries for access to UK clearers but this entails a significant increase in capital for using a non-EU authorised CCP. In addition, splitting portfolios leads to increases in margin, operational risk and additional risks to financial stability.
Andrea Beltramello, member of cabinet at the European Commission, said on the webinar that equivalence was a unilateral decision that was not part of the Brexit negotiations.
"We perform an assessment keeping in mind the issues for financial stability, transparency and the UK's stated intention to diverge from EU legislation, which is legitimate, but something we need to bear in mind," he added. "We had 28 questions for the UK and have received four replies so the assessment is ongoing."
Julien Jardelot, head of Europe government relations and regulatory strategy at London Stock Exchange Group, said on the webinar that he was confident that all the regulators realised the implications for financial stability and the need for a smooth transition for clearing after the transition period ends.
"We need legal certainty as soon as possible and clarity on the steps we need to take before September," he added.
Jardelot said LCH welcomed direct supervision from the European Securities and Markets Authority if that was necessary for approval.
He continued that LCH, the London Stock Exchange Group's clearing arm, had not experienced any change in customer activity rates since Deutsche Börse's Eurex expanded its euro swap clearing business.
"Our share of Euro swap clearing is consistently above 90%," Jardelot said.
He added that customers do not support a fragmentation in liquidity as they benefit from a liquidity pool with a range of products and currencies, and diverse supply and demand.
"In addition clients cannot just transfer clearing positions," Jardelot said. "They need to close the portfolio and open it at another CCP."
Farida El-Gammal, global clearing product development at JP Morgan, said some clients had opened accounts at Eurex but material risk has not transferred from LCH as longer-dated swaps had not moved.
"There is no porting," she added. "Clients need to close a position and open another one at a new CCP at the current market value which has P&L implications."
In addition, splitting the portfolio increases operational risk and overheads such as clearing fees and margin requirements, so there are funding implications.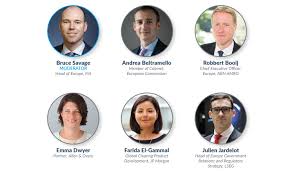 She explained that the bank has been working on contingency plans for clearing since 2017 by creating new legal entities , obtaining EU memberships and transferring clients.
"We have done a lot of work in a short period of time but the industry has gone as far as we can," she said. "The regulatory cliff edge is difficult to overcome."