Cboe-Powered Index Innovation for the Modern Investor
With Bruce Traan, Head of Cboe Global Indices
Cboe Global Markets and the VIX Index are a well-known pairing, but the global market operator also runs a robust index services business as part of its Information Solutions arm.
The Cboe Volatility Index®, or VIX Index®, became a household name during the 2008 financial crisis, as it gauged the market's expectation of future volatility during one of the most volatile periods in recent history. This of course preceded the volatility seen within the marketplace in both 2018 and 2020. But it all started as a revolutionary concept 27 years earlier when Cboe dreamed up a calculation designed to produce a measure of constant, 30-day expected volatility of the U.S. stock market derived from real-time prices of S&P 500® Index options.
That passion for "the next big thing" has always driven innovation at Cboe through its Global Indices business, which provides index design, implementation, calculation, maintenance, administration and data distribution services for a suite of custom indices and benchmarks.
"Cboe has unparalleled expertise in using derivatives around core investment strategies and themes," says Bruce Traan, Head of Cboe Global Indices. "Our sophisticated technology and deep bench of index researchers, academics and professional traders perfectly complement each other while we work toward developing the next generation of index solutions across asset classes."
Indices: The Missing Link
Cboe has been at the forefront of expanding global index calculations and ideation for derivatives-based strategy indices and benchmarks for decades.
"Our wheelhouse is creating benchmark indices based on derivatives strategies," Traan says. "To date, we have shaped more than 450 innovative indices. This has made complex strategies more easily accessible by underpinning listing and trading of options and ETFs on exchanges."
New types of indexing are viewed as one of the most important areas of innovation in the coming years and strategic partnerships with global index providers, like S&P Dow Jones Indices, FTSE Russell and MSCI, enable Cboe Global Indices to continue growing the indexing ecosystem. Not to mention the paramount partnership with CboeVest among other unique ETP issuers that utilize Cboe's indices for the development of new ETPs.
"We've brought together Cboe's indexing capabilities and our strategic relationships to generate new index service opportunities," Traan says. "By positioning ourselves at the forefront of new trading and investing ideas, we're creating an investment ecosystem from product design, listing and trading to market data and benchmark licensing."
The Cboe Product Cycle
Market data is at the core of Cboe's index ideation and product innovation cycle, which is why the indices group sits within the company's Information Solutions division. Cboe Information Solutions arms market participants with a wide variety of solutions to simplify the complexities of navigating the derivatives marketplace. Irrespective of market environment, volatility and performance, Information Solutions helps participants make better-informed, more confident trading decisions.
"It's all about data and what you can glean from that data," Traan says. "It's a virtuous cycle that feeds upon itself. We take our proprietary products and create a transparent vehicle for people to learn how to trade them. Then, someone may say, 'this adds a tremendous amount of value to the investment community' and they create a tradable product from it."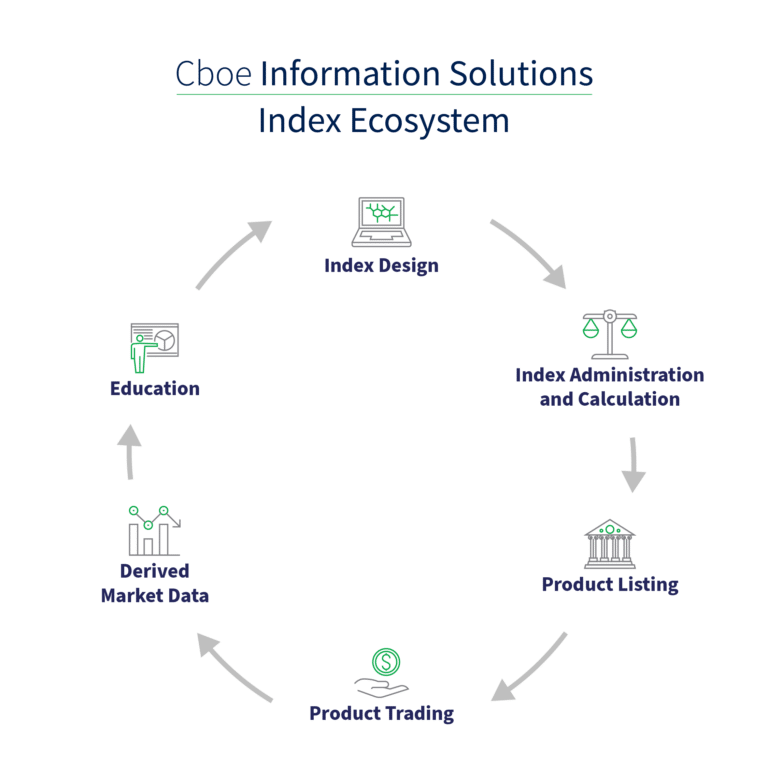 Step 1: Index Design
The first step in the ecosystem is designing the index. Cboe works with issuers and clients in a consultancy-like role to create an index or suite of indices that meet their investment strategy goals. The team then develops the methodology, transforming ideas from formulas on a piece of paper to a tangible index.
Step 2: Index Administration and Calculation
The Cboe Global Indices team then gets to work administering, calculating and maintaining the index.
Step 3: Product Listing
From there, an ETP is launched. Transparency is a critical piece of listing a product on an exchange, with the benefits of price discovery and central clearing, which are not seen in structured products.
Step 4: Product Trading
Trading an index-based product on an exchange provides access to a wider customer base.
Step 5: Derived Market Data
Cboe Information Solutions disseminates index data, via its Cboe Streaming Market Indices (CSMI) feed, as well as derived data to subscribers to use in the development of new strategies and benchmarks that continue to feed the ecosystem to create other products and services.
Step 6: Education
The new strategies and indices generated help people understand the underlying product, which creates better-informed market participants. Education and content creation further help simplify strategies and create access to encourage more trading, and thus, the cycle starts again.
Branching Out to Strategy Performance Benchmark Indices
The Cboe Global Indices group was originally formed to grow the VIX Index franchise by helping investors understand volatility and related tradable volatility products. As the marketplace evolved, Cboe Global Indices recognized an opportunity to simplify the use of derivatives within investment strategies. To remain at the forefront of the indexing industry, Cboe created the first strategy performance benchmark index, the Cboe S&P 500 BuyWrite Index (BXM). BXM was designed to show the hypothetical performance of a covered-call strategy when an investor buys an S&P 500 stock, or basket of stocks, and sells S&P 500 Index (SPX) call options that cover the stock position.
"Cboe began disseminating BXM in 2002 to show quantifiable data for how a specific options-based strategy might perform over time in terms of volatility, as well as profit and loss," Traan says. "A major benchmark for buy-write strategies was not available to the marketplace before BXM. It was truly a breakthrough idea to prepackage strategies into a transparent methodology and place on an index feed."
The Next Wave: Target Outcome Index Investing
Cboe has certainly shown the value in making particular trading strategies more accessible and no products have demonstrated that more than Cboe's latest innovation, its suite of target outcome indices and their associated options and ETPs. Each Target Outcome Index is designed to reduce the complexity of options trading by enabling investors to pre-define their investment objectives and risk-return parameters.
"The indices support growing interest in investment strategies that target defined objectives to achieve a pre-determined level of portfolio returns over a set period of time," Traan says.
A few years ago, the target outcome index universe expanded with the launch of Defined Outcome ETFs. This group of ETFs is designed to provide investors with built-in buffers and exposure to the growth of equity and bond markets in a tax-efficient vehicle.
"Access to investments with these types of risk return profiles has typically been available only through structured and OTC products," Traan says. "We are taking what had previously been very complex and opaque investments for sophisticated investors and reaching wealth managers and retail audiences by putting the same strategy into more accessible and transparent product wrappers, such as ETFs."
Remaining at the Forefront of Indexing
From creating the first index options to the development of the VIX Index and subsequent breakthroughs with strategy performance benchmarks and target outcome indices, Cboe's Global Indices team continues to explore new frontiers in the indexing space. Its next marketplace enhancement? Evolving its Cboe S&P 500® Implied Correlation Index through Cboe Information Solutions' recent acquisition of Hanweck.
At the end of the day, for Traan and the Cboe Global Indices team, it's all about serving customers through innovative solutions.
"Our focus is to create a set of transparent standards, or benchmarks, for market participants to better access and understand market activity. Indices are incredibly powerful tools and the Cboe Global Indices team remains committed to providing products and services that meet the evolving needs of investors large and small."
For more information, visit Cboe.com/Index.